What makes our wireless fence the

 

best

 

and

 

safest?
The most flexible fencing option for dogs
Rather than utilizing traditional wires and fence posts, our wireless containment fence uses radio frequencies to create an invisible boundary that effectively keeps your dog from wandering away. The system is also portable, so you can set up an invisible boundary on the go anywhere.
With our wireless dog containment system, you can safely contain your dogs weighing over 8 pounds in an area of ​​your choice. Just plug in the transmitter and it will emit a constant radio signal from an adjustable distance up to 1,650+ feet. Complete installation usually takes less than two hours, and no dangerous wires, cable gaps, or piling are required.
Lightning Fast GPS Location Tracking
With advanced radio signal emissions - the same technology used in 4G LTE - our wireless fence is able to accurately deploy practical trigger zones quickly helping to keep your furry friend safe inside of your yard.
The signal transmitted from the transmitter to the receivers are powerful & uninterrupted and can travel through bricks, objects, and foliage without any interruption.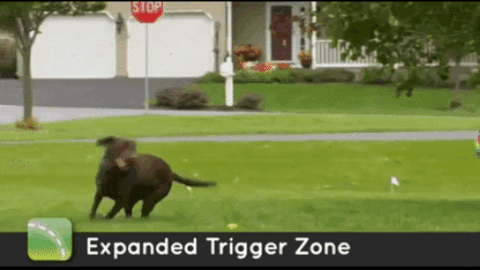 Wireless Dog Fence

Customizable Roam Areas
Keeping your dog safe on-the-go has never been easier. Simply setup our wireless fence in any location to create an invisible boundary for your dogs to stay safe while still enjoying their freedom.
The portable design of our fence makes it easier than ever to carry and use wherever you're going. No WiFi needed, our fence uses built-in transmitter connection.
Why Choose Bousty Wireless Dog Fence 2.0?
h
Bousty Wireless Dog Fence 2.0
✔️ No building or wiring needed
✔️ Connect up to 3 collars to 1 system
✔️ Quick charge lasts up to 3 weeks each use
✔️ Circular boundary ranges over 1,650+ feet
✔️ 3 correction levels + tone-only mode
✔️ Full setup in under 2 hours
✔️ Portable, setup fence anywhere
✔️ Adjustable collar fits 6-28 inch neck sizes 
h
Other brands (Physical Fences)
✖️ Takes days to weeks to fully install
✖️ Installation costs are expensive
✖️ Not portable, can't take it with you traveling
✖️ Blocks view from your property
✖️ Applicable HOA fees
✖️ Dogs are able to jump over it
Wireless Dog Fence
How to setup the fence in 3 easy steps 
Set the transmitter in the center of your dog's play area and plug the transmitter into an indoor electrical outlet close to the area where you wish to contain your pet outdoors. 

Temporarily define the area with boundary flags for a visual aid while training your pet. The transmitter sends a constant radio signal in the pet area. 

Your dog receives a warning tone from the lightweight, waterproof collar as he approaches the boundary zone. If he strays further, he receives a safe static correction reminding him to return to the pet area.

The collar offers 3 levels of static correction, plus a tone-only option, so you are sure to find the right fit for your pet's temperament.
What's Included