See your world in a whole new way, with your soon-to-be Digital Microscope 1000x. It's smart, it's effective and it's frugal.
Now, you can get up close and personal with your subject, using this USB microscope camera. With the aid of its 1000x magnification and accurate auto-focus capability, you can get a clear look at any object, including living things, integrated circuit boards, leaves, skin, rocks, or whatever captivates your imagination. 
Observe every aspect of your subject, even the smallest of details with your own eyes, right on your computer screen! With a 1000x magnifier, this USB Digital Microscope is ideal for close inspection, or conducting research or analysis of any kind.
It is compatible with PC/MAC or laptop, to make viewing easy. Easy to use, simply plug it into your device and play. Featuring 8 high-quality, LED lights, this digital microscope 1000x provides an incredibly clear view of a previously invisible universe. It is perfect for kids, students, inventors, engineers, and anyone else who enjoys magnifying and inspecting microscopic objects. You can even capture screenshots.
FEATURES:
Focus Range: Manual Focus from 3mm to 40mm

Video Capture Resolution: 1000x1080(2M Pixel),1280x960(1.3M Pixel),800x600, 640x480,

Still Image Capture Resolution: 1000x1080(2M Pixel),1280x960(1.3M Pixel),800x600, 640x480

Frame Rate: Max. 30f/s Under 600 Lux Brightness

Flicker Control: 50Hz / 60Hz Option

Light Source: 8 White Light LED (with controller on USB cable)

Magnification Ratio:50X ~ 500X (Manual)

Power Supply: USB Port (5V DC)

Dimension: 112 mm ( L ) X 33 mm ( R ) approx.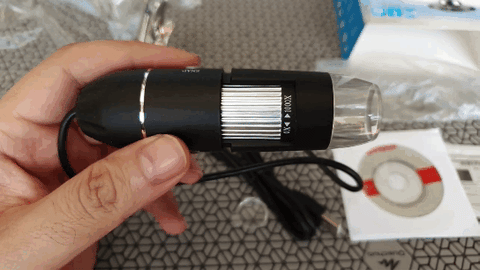 Shipping time: 10-20 business days