🎾🥎🥰 THE BEST INTERACTIVE DOG TOY OF 2021 😻💝🐶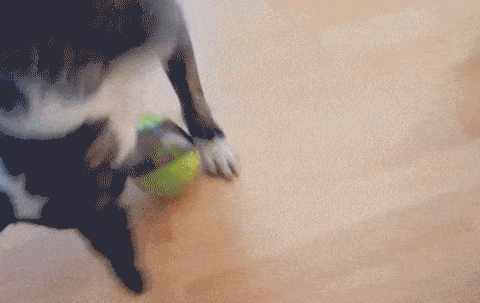 The Interactive Food Treat Toy is a domed-shaped ball that rocks, rolls & slides while dispensing treats. This rugged toy has a tough frame with creatively styled openings that will entertain and intrigue your pet for hours.🔥😍
🐾 MENTALLY STIMULATE YOUR DOG
This food-dispensing dog toy keeps dogs mentally and physically active while they play.
🐾 CUSTOM IQ TREAT BALL
Your furry friend gets smarter as they play with this interactive dog toy ball, learning how to roll the ball to get treats to fall out. Adjust the desired difficulty level using the ball's adjustable interior disc.

🐾 EASY TO USE AND CLEAN
Our interactive treat dispensing dog toys conveniently uses your dog's favorite dry treats or kibble. It is made from hard plastic that disassembles for easy cleaning. Rinse in warm soapy water and dry after use.

🐾 PROLONGED PLAY
This dog treats dispensing ball is designed to limit the number of treats your dog gets while encouraging more extended playtime. Supervised play recommended.

🐾 SLOWER HEALTHIER FEEDING
Slower active eating with this dog treat dispensing ball reduces bloating and helps digestion.

、
Treat Dispensing Toy – The bright color dog toy can be loaded with dog treats. As your dog play with the toy, treat falls out to reward it and encourage them to keep playing with it. It helps to reduce your dog boredom and destructive behavior. It is interactive and mental stimulating.


When dogs are left alone in a confined environment, they get stressed & develop certain repetitive behaviors such as barking, chewing, licking and digging to pass time. A fun dog toy can keep your dog entertained, mentally & physically stimulated.


Specifications:
Size (approximate): 4.7 x 3.9 inches / 12 x 10 cm (Height x Diameter)
Diameter of Leaky Hole (approximate): 0.78 inch / 20 mm. Suitable for dog treats size less than 0.7 inch / 18 mm.
Material: Non-Toxic, Durable, High Quality Plastics
(Suitable for All Sized Dogs)