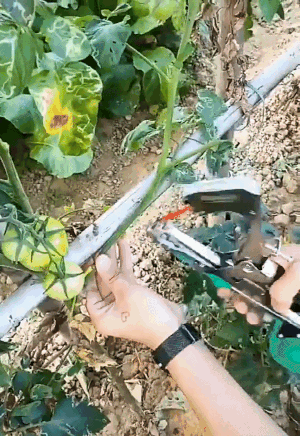 This tool is designed for rapid frustration-free tying of vegetable trees, vines, nursery trees, or any plant that needs to be secured to a stake or trellis wire. This tool is the best solution for tying trees to various trellis. It is compatible with other previous generation Tapener tools. This tools comes with a cutting blade installed, tie tape, and staples.
The weight about 0.5 kilogram. It is small and exquisite, and it is very convenient to use. The structure is exquisite, the operation is simple, the work efficiency is high, and the crop will not be damaged.
FEATURES:
✓ Extensive Use: Applicable to all kinds of branches, vines crop such as grapes, tomatoes, cucumbers, melon, eggplant, and so on.
✓ Complete Accessories: 10 rolls of tape(Random color of tape)1 box of staples, you can start to use the tools immediately, no need to order staples.
✓ Easy Operation: One hand operation, this binder machine can easily tie plants to support sticks and lines. easy operation, high efficiency, will not damage the plant.
✓ Adjustable Tape Circle: The opening of the Tape Circle can be adjusted at any time depending on how much you need each time which can fit different plants.
✓ High efficiency: A great tool to have in a greenhouse, garden, or summer house. Greatly improves your efficiency, saving labor costs and saving time as well.
FAQS
1. What size staples?
Answer: The staples have 6mm crown width and 4mm leg length. Please view the link below for more details.

2. Is this thing any good for staking up tomatoes?
Answer: You can bind tomatoes and the support easily.

3. How to get the tool to grab the tape? The tool is not grabbing the tape when cocking it 1/2 way. It is brand new.
Answer: Make sure the tape pulls freely through the slot and the tooth that grabs the tape is open. If it is closed, run it all the way then come back and click 1/2 way To pick up the tape. Also, make sure no debris is stuck on the pick-up tooth.

PACKAGE INCLUDES:
1 x Garden tapener machine.
10000 x staples
10 x Tapes