COOL YOUR DOGS THIS SUMMER!

Worry about your furry friends struggle to stay cool in hot summer
? Our
Pet Cooling Mat
is the best
solution to keep you pets

happy and healthy

in

warm temperatures.
Consists of 3 layers

—

cooling ice silk, premium cotton and breathable mesh, it guarantees your pet a brand new comfortable and refreshing experience.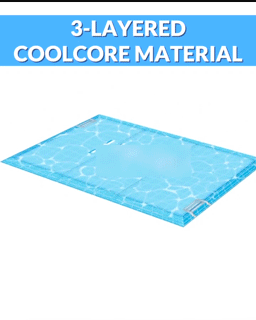 Made with self-cooling fabric, the breathable cooling mat requires no water, batteries, refrigeration, or electricity—makes it perfect for both household and outdoor use.
FEATURES:
3-Layer Cooling :
Top quality ice silk, premium cotton and breathable mesh

with

super comfy and soft design



Self Cooling Pad :
All-day cooling with no water, batteries, refrigeration, or electricity

Toxic-Free and Chemical-Free :
100 % safe for all pets
Breathable and Moisture-Proof :
Wicks away moisture instantly and keeps your pet clean and dry
Durable and Tear-Proof :
Avoid damages caused by scratches of your pets

Portable and Lightweight :
Perfect for household use, and even for picnic and outdoor activities
Easy Cleansing :
Machine wash and hand wash
Pets are our good friends. We should take good care of them. In summer, our little ones will feel hot and hard to rest. We need to give them a cool and comfortable sleeping environment. Our pet mattress is made of soft material with ice touch on the surface and has a super heat-absorbing ability
As long as the pet is placed on the pet mat, it can absorb the heat from the pet and provide a comfortable sleeping environment for the pet. They will not be noisy anymore, and your family will have a quiet environment.
Size Guide !
Benefits:


✅ LET YOUR PET ENJOY SUMMER: Dog Cooling mat made of breathable mesh and self-cooling fabric, quite soft and comfortable, let your furry friends have a fast cooling feeling during those hot days.
✅ MAINTAIN YOUR DOG'S COMFORTABLE TEMPERATURE: No water, electricity, or refrigeration needed, automatically recharges when not in use, feel cool when touching the surface and this ice silk mat can absorb your pet's body heat, maintaining the comfortable temperature, relaxing and soothing them.
✅ USE ANYWHERE: The Dog Cooling mat can be laid directly on the floor for pets to sleep, also can be put in the kennels, sofa, bed, etc. Foldable to carry and store, ideal for traveling or outdoor activities. Machine washable is okay
✅ PERFECT DOG GIFT: Cool but not cold for pets, 100% safe for animals, adults, kids; Also perfect for older animals, or those dealing with joint pain or recovering from surgery. With it, you will never see your dog panting and struggling in the hot summer again.