Do you want to keep your drinks, snacks, remote and other gadgets close at hand while sitting on the sofa?
This Sofa Armrest Tray with Organizer is all you require. With this, you can always have everything you need within reach and live a very relaxed lifestyle. A total of five compartments provides ample space for all of your belongings while also keeping your table clean and tidy. It's a handy way to keep remote control, books, magazines, glasses, or snacks nearby. You can even put a cup of coffee or tea on the top tray and relax while watching TV. It is a great substitute for a large console side table and is ideal for homes with limited space. It is ready to use in seconds and can be placed anywhere to keep your snacks, or newspaper nearby.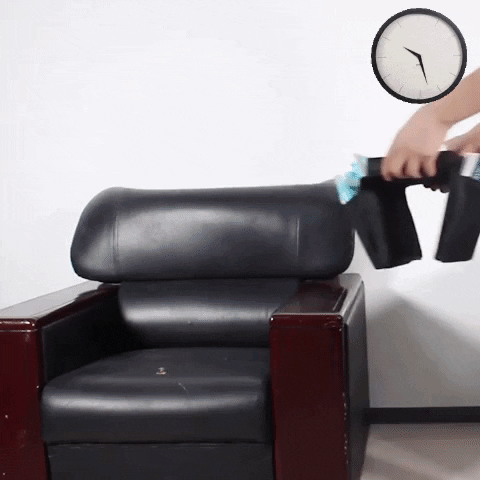 Why should you have this Sofa Armrest Tray with Organizer?
✅ Large Capacity Organizer: It features two main wide pockets on each side, three outer divided pockets, and one large top tray for sorting, organizing, and storing. You can put anything you want in it so that you can find it quickly instead of searching for it when you need it.
✅ Space-Saving Design: The whole armrest organizer is designed to take up as little space as possible. It not only takes up less space than regular tv trays for eating but also looks elegant and stylish.
✅ Quality & Durability: Our armrest organizer is made of premium oxford cloth, which is wrinkle-resistant, colorfast, and shrink-proof. It's also very simple to clean. You can use it for an extended period of time.
✅ Multifunctional: It has a versatile design. Newspapers, magazines, and iPads could be placed in the largest pockets, while eyeglasses, TV remote controls, and other portable devices could be placed in the small pockets. Its tray functions as a cup holder for wine, juice, and other drinks.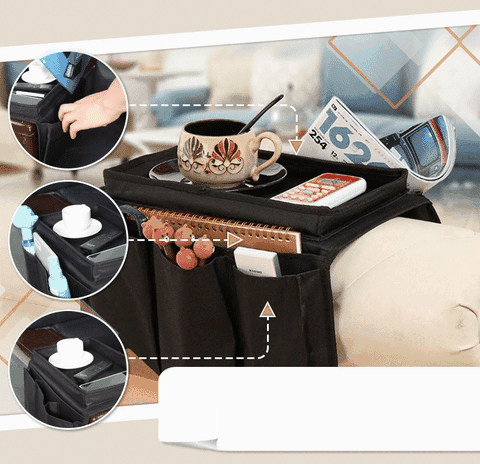 ✅ Convenient to Use: It does not require any assembly or installation; simply place the end with the organizer inside and beneath your couch cushions to secure the organizer in place, and your sofa has been transformed into an organizer and snack and drink tray.
Specifications: