Having a BBQ on the weekend with friends or family refreshes the mind for the upcoming working days.
But what if you lack a BBQ grill? Your whole plan will be destroyed since you have to roast the chicken pieces one by one in an inefficient manner. 
So, stay free from this inconvenience and enjoy the BBQ to the fullest with this Roasted Chicken Rack Holder.
It helps you grill 14 chicken legs or thighs at a time and serve your guests without delay, this rack holder gives you a reliable hand in your BBQ party.
What you'll get: 
Adjustable design:

 

This BBQ rack is foldable. It can be easily placed on grills, smokers, or even ovens. You can also adjust its slots by adjusting the stand and put legs, thighs, or wings without the trouble of falling and slipping. 
No dripping juice hassle:

 

A detachable tray is built in this chicken rack holder. It stores the dripping chicken liquid and keeps it from falling onto the coals in the grill.
Full family BBQ:

 

This holder is equipped with 14 slots. In case you have a family or friend gathering in your home, it'll prevent you from not-ready-yet embarrassment in front of your guests.
Premium quality:

 

This stainless steel rack holder is non-toxic and safe. It also resists rust and bending and holds up well for prolonged use. 
 Package includes: 2 pcs rack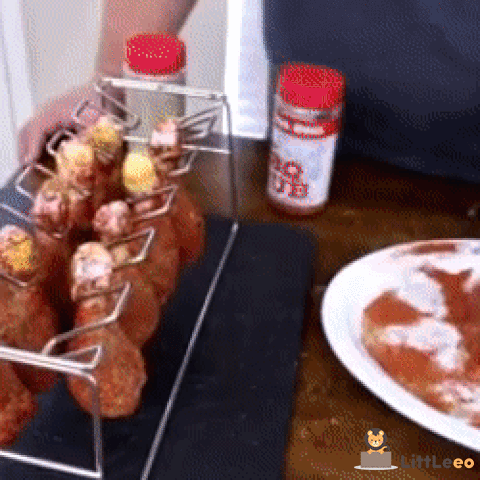 Shipping time: 10-20 business days