With walking movements, a remote-controlled dinosaur brought the real Jurassic dinosaur Velociraptor to life. This remote-controlled dinosaur has 3D eyes that mimic real dinosaur eyes, as well as walking, growling, swinging its body and tail from side to side, and otherwise imitating a real dinosaur.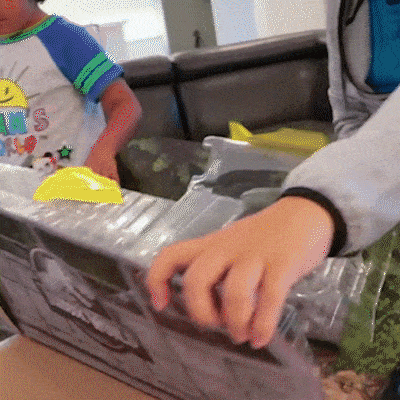 As long as the toy dinosaur head button is pressed, the toy dinosaur can walk and roar like a real Velociraptor, and boys and girls over three years old can easily control it forward, backward, left and right, wagging body and tail.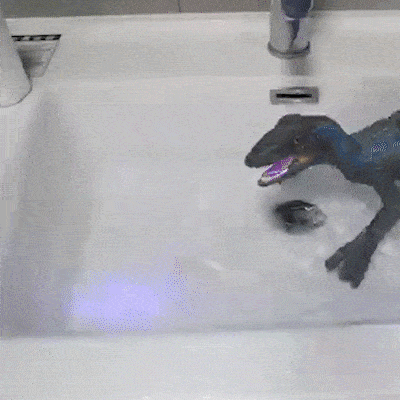 The high-resolution Velociraptor is larger in size (20in long, 12in tall) and more realistic in appearance.
DURABLE RECHARGEABLE BATTERY: The dinosaur toy with remote control requires 2x1.5V 'AA' batteries (not included), and the RC dinosaur has a built-in rechargeable lithium battery with a capacity of 3.7V 1200mah. Dinosaur toys for kids can run for up to 2 hours nonstop after being fully charged. Excellent operation allows your children to enjoy uninterrupted gaming time, making it an ideal remote control dinosaur for boys aged 4 to 5, 6 to 7, 8 to 9, and 11 to 13.

Kid-Friendly Material: Our RC dinosaur toy is made of premium sturdy ABS material that has no odour, fades, or harms children! Strict security testing has been approved, and it meets US toy standards, making it ideal remote dinosaur toys for kids aged 4-7, 8-12. Large dinosaur toys with realistic scales, horns, teeth, and more!
Ideal Gift for Kids: Every child loves dinosaurs, so he was desperate for a dinosaur toy. This large remote-controlled dinosaur toy can help children develop their imaginations. An educational dinosaur toy can help children learn about dinosaurs and prehistoric culture. Dinosaur toys are an appropriate gift for children aged 3 to 8 years old, and can be given as a surprise on their birthday, Halloween, or Christmas. The dinosaur toy is a surprise for children aged 3 to 5.

GIFT PACKAGE CONTENT:
1 X Dinosaur Toys
1 X Specification
1 X USB Cable (Velociraptor built-in battery 3.7V 1200mah)
1 X Remote Control (requires 2 "AA" batteries not included)
1 X Portable Gift Box (Very suitable as a gift)
SHIPPING INFORMATION
Domestic Shipping (UNITED STATES):
Your order will be packaged and shipped within 1-2 days of ordering. Tracking info will be emailed to you once the order has been shipped. Shipping will take 3-5 days. 
OUR GUARANTEE:
We believe our products can help people's everyday lives, and we fully stand by our products. We offer a risk-free 30-day guarantee on all our products. If you don't have a great experience, we will ensure you are satisfied with your purchase. We also offer a 1-year free breakdown warranty on our products.