Do you use a knife to shred meat?
If yes, stop!
It is dangerous, time-consuming, and inefficient.
So what can you use? This meat shredding tool. It is quick to use, shreds meat into small pieces, and keeps your hands safe from the sharp blade.
Simple back-and-forth twists will shred the meat for you in a hassle-free manner.
What you'll get:
Quick shredding:

 Place the meat inside the shredder, cover it with the top lid and rotate it halfway to grind the meat into small shreds. It is a breeze to use and does the chore in minutes.  

Ease of use:

 

It is durable and easy to handle. The handle grips are comfortable and easy to hold. It also has a non-slip base which prevents it from slipping.

Safety:

 It eliminates the use of a knife, making it safe to use.

Wide compatibility:

 

This meat shredding tool is ideal for shredding red meat, chicken meat, pork, and fish.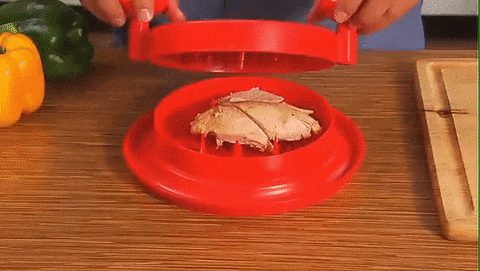 Shipping time: 10-20 business days