With this gps you can easily, constantly and exactly know where it is!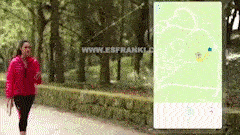 Are you afraid of losing your dog? Does your pet tend to go away and have you sometimes lost it for hours?
Losing your pet is one of the worst nightmares you can have. Although you will do everything to take charge of the safety of your favorite animal, simply fencing its play area or keeping it safe inside the house is not always enough.
Dogs, when they want to, always find a way to escape. Starting from this fact, Tracker was born which simply attaches to your pet's collar and which has a free application on all mobiles.
Receive notifications
Receive a  notification as  soon as your pet exceeds the roaming range you have planned for him!
Smart & practical design
Just connect DogTraker to the free app, attach it to your dog's collar, and that's it!
You have direct instant control over its security. Tracker is light. Your dog will not even feel it. It works with a CR-2032 lithium battery, which lasts thousands of hours and which can be changed very easily.
Control Tracker from your phone
Have control over the safety of your pet with the Tracker app! Completely free, it is compatible with all iphones and androids.
Waterproof and robust
In case your pet goes swimming or the rain is heavy, you can also stay quiet.
Usage tips
Tracker is a product based on low consumption Bluetooth 5.0 technology. It is used with an application. To download it, go to the app store or google play and type "findelfi"
After installing it, open the "Automatic Operation" tab.

Then turn on Tracker by pressing for more than 3 seconds until you hear a "Beep" twice in succession.

Open your application, click on "Device" then click on "Connect".

You are there! You will now be able to know where your dog is at any time.

To turn it off, press the button for more than 5 seconds until you hear a "Beep".

Benefits
Less stress and anxiety

No more wasting time searching everywhere you could put your keys, satchel or car in a parking lot

Small, it is discreet and fits easily anywhere.
Characteristics:
Material:  ABS
Size:  52 x 31 x 11mm
Battery:  CR2032 lithium button cell (replaceable, included)
Working distance: about 75 feet (accessibility) Works with Bluetooth.