Key Benefits
Comes in Small, Medium, Large, and Extra Large (Please see size chart)for all types of dogs and in an array of colors and prints to chose from.

No choke harness is a great solution for hard pullers, as well as elderly dogs.
Wide, padded design distributes the pressure to give your pup the most comfortable walk ever.
D-ring attaches firmly to a center ring, which allows freedom of motion for dogs and control for you.
Bonus handle gives you the option to grab your dog in tight or unexpected situations.
Made from durable fibers and breathable materials with easy-click buckles that prevent your dog from slipping out.
Easy on -easy off!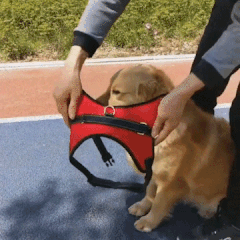 No Pull Dog Harness with 2 Snap Buckles
When it comes to a harness, you need it to be the most comfortable one you can find.Scratch-Resistant oxford material is super easy to clean. Quick-dry and soft breathable non-toxic mesh padded, keep optimal comfort while exercising.

Key Product Features
Reflective
The reflective material makes your dog be saw easily. It can let drivers have long time to react, which ensure your dog's safety!

Double Leash Attachment Hooks
There are 2 hooks, one is on the front, another is on the back. If you use the front hook on the chest, it will reduce the pulling a lot and make going for a walk more enjoyable. As usual, most people like to use the back hook.

Soft Training Handle
This handle is well-made and it is helpful in controlling dogs a bit closer to you when they are trying to lunge at something. Also, it is convenient to assist dogs into the car.

Can be uesed All Weather
The Harness works in all weather conditions - even if you like to walk the dog through freezing temperatures!