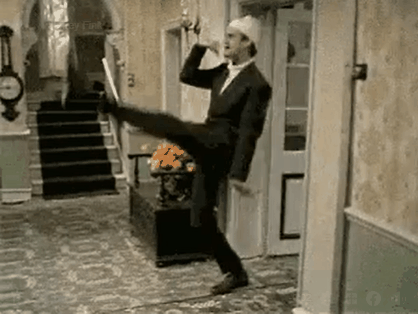 A silly wall clock I made based on the Ministry of Silly Walks sketch by Monty Python. This is not official memorabilia just a project I made to make myself laugh and now I'm selling them to others to make them laugh as well.
The face is ~7.75" across, with frame about 8.75" total. Battery-powered by 1 AA (not included).
Slient Clock: Precise sweep seconds movement guarantees accurate time and absolutely quiet environment. Being non-ticking, no TICK TOCK, no noise, it won't bother you when you reading, working, thinking, conversing or sleeping.
Perfect Decoration: The creative clock design is unique and personalized to decorate your space and bring a different color to your space. Perfect for living room, bedroom, kitchen, bathroom, classroom, guest room, office, dining room, cafe room, library or any wall of any color.
Battery Operated: Powered by 1pc AA battery (not included),a good battery can be used for more than one year, energy saved; wide slot in back of the clock for easy hanging, and equipped with holder, easy to stand on desk.