Lose Weight And Burn Fat Faster With EMS!
We designed our EMS Mini Massage to support fat burning in any desired body area. You can quickly get rid of troublesome problem fat deposits on your arms, thighs, and waist by using EMS vibration.
 What Is EMS And Why Is It Good For Weight Loss?
Electrical impulses are used in EMS to stimulate neurons and activate muscle fibers. The apparatus imitates the brain, which sends "shocks" to the neurons in a muscle group to activate it. The muscles contract and dilate as a result of these currents, exactly like they would during regular activity.
By helping you gain muscle, EMS also aids with weight loss by increasing your metabolism and fat burning. By enabling the body to burn more calories, it accomplishes this. Being able to produce a calorie deficit, which is the primary means by which you can lose weight, is one of the key benefits of EMS for weight loss. If you have a calorie deficit, you burn more calories than you take in. You can do this by eating less calories, working out more to burn more calories, or doing both at once.
Programmable modes and intensity controls, along with intuitive functionality
When combined with a healthy, balanced diet that encourages the calorie deficit so you may more effectively target the fatty areas of your body, weight loss with EMS training is most effective.
The 10 distinct strength levels on our device can be changed in any of the six modes we've offered. Choose the program that best suits your needs and change the intensity to suit your preferences, and you'll have the ideal answer!
Why Is EMS Mini Massage An Effective Weight Loss Method?
Helps Body Burn Fat More Rapidly
Promotes Tone and Definition of Muscles
EMS Vibration Technology is employed.
Offers Pain and Fatigue Relief
Adjustable massage intensities and modes
Lightweight and portable design
Use it anytime, anywhere.
Simple USB Charging
Here's What Our Customers Say:

Amanda Goulding From Toronto, Canda shared her results with us:
"With the help of this EMS massager, I was able to effectively trim down my arm width! The EMS vibrations really helped burn the fat in my arms. I'm so happy and more confident with how my arms look now! I highly recommend this!"
Anita Vasquez From Houston, Texas shared her results with us:
"I love how the EMS vibration feels when wearing it. It really made a difference in my belly! The belly fat is gone after continuous use! I absolutely love this product, it was so easy to use and did what it promised!"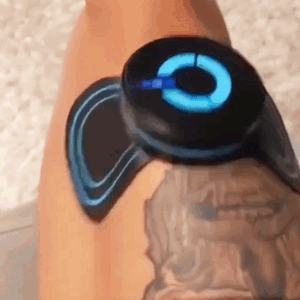 How To Use
Place Massager On Desired Body Part

Press The Power Button To Turn On
Press The Program Button To Change To A Mode You Like
Set The Intensity To Your Preference, Press The INC Button To Increase Intnesity And Press The DEC Button To Decrease Intensity
Use For 15 Minutes Everyday For 10 Days Or More
Specifications
Size: 5.7cm Diameter, 1.8cm Thickness
Operating Modes: Battery, USB
USB Charging: 2 Hours for Full Charge
6 Massage Modes
10 Intensity Settings
Recommended Use: 15 Mins Per Day, Continuous Use for 10 Days or More
Variants: 1 set, 2 sets, 4 sets
Package Includes
USB Charging Version: 1 set x  EMS Microcurrent Mini Massage, USB Charging Wire, Manual
Battery Powered Version: 1 set x EMS Microcurrent Mini Massage, Manual