Luxury Triangular Wedge Pillow Bolster Bed Headboard
Our wedge pillow headboard is perfect for reading in bed, lounging, or watching TV!
You love to read in bed, but the constant adjusting of the pillow gets old fast. It's hard to get comfortable in bed when trying to read a book or watch TV, and you keep having to adjust your head and neck to find a good position.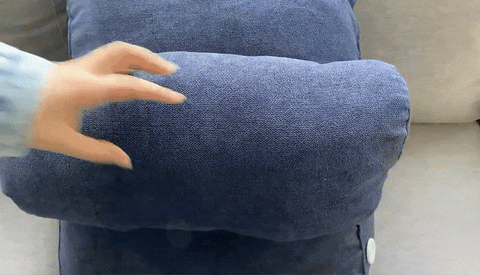 Our Wedge Pillow Headboard is the perfect solution. This soft, comfortable pillow props your head up at the perfect angle so you can relax and read in bed without having to adjust your pillow constantly.
This wedge pillow headboard attaches quickly to any bed. It provides the perfect level of support for your head, neck, and shoulders, allowing you to read, lounge, and watch TV in bed without discomfort.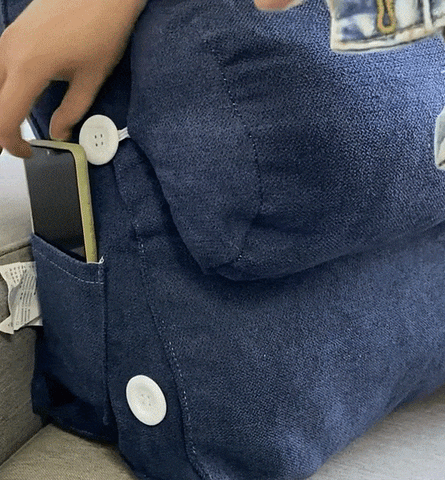 It's also covered in a soft, luxurious fabric that is both comfortable and stylish. Whether you're looking to add a touch of elegance to your bedroom or simply want a more comfortable way to watch TV or read in bed, our bed wedge pillow headboard is the perfect solution.
Here's more about why you'll love our wedge pillow  Headboard…
KEEP YOUR PHONE CLOSE BY -

Tired of having to get out of bed to answer a phone call? No problem! Our bed wedge pillow headboard has pockets on the side for your phone, so you can stay connected without having to leave your comfort zone.
MULTIPLE WAYS TO USE -

Use it as a couch pillow, backrest pillow, leg elevation pillow, knee support pillow, or headboard wedge pillow.
 

KEEP YOUR BACK AND NECK IN LINE -

The wedge design keeps your spine straight, preventing stiffness and pain. It's also great for elevating your legs to improve circulation. And if you're pregnant, this pillow can help take the pressure off your hips and back.
PILLOW WEDGE HEADBOARD  SPECIFICATIONS:
Shape: triangular 

Size: 150*23*50cm (LXWXH)

Material: Velveteen + quality PP Cotton 

Color: Grey 

Function: Firm Support
PACKAGE INCLUDES: