Chemion Led Glasses for Party - Bluetooth APP Controlled

The Chemion LED Light Glasses Bluetooth Controlled are Perfect for all ages. Wear them in the Party, Rave, Dance Party, Nightclub, Birthdays Party, Mardi Gras Party, Halloween Party, Concerts, Raves & Celebrations, Christmas, and it's a great gift choice for family & friends about the party supplies.
BLUETOOTH UPGRADE VERSION (MULTIPLE MODES)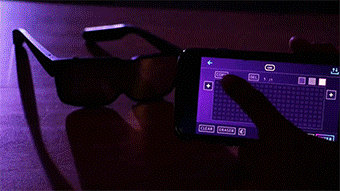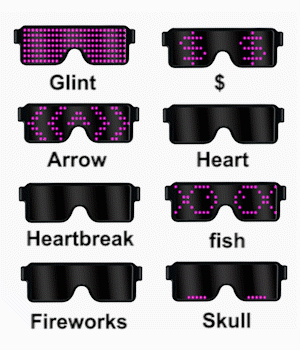 With USB rechargeable cable: LED glasses working time about 5 Hours under fully charged . High-cost performance & environment-friendly.
LED Light Glasses are awesome, fun, and super bright. definitely an attention and conversation starter during your event.
Flashing decoration: easy to see through without obstructing your vision, also as a cool while wearing them during the holiday
Bluetooth enabled you to connect to the App (iOS &Android ) and instantly customize your messages!
SPECIFICATION
Input voltage current: 5V 1A
Charging type: USB interface charging
Supports 7 languages
The rated capacity of this product is 180mAH
APP controls the glasses pattern, you can change the text and pattern in DIY.
Scans the QR code, or searches the app Glow Glasses to download the app.
Connect your glasses to your smartphone via Bluetooth.
Adopt energy-saving, high-power, long-life LED lamp beads
Package List:
1 LED BlueTooth LED Glasses
1 USB Cable and 1 User Manual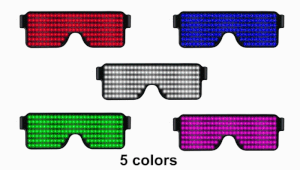 Shipping
USA Orders: Your order will be delivered 7-10 working days after being dispatched. USPS/DHL tracking number will be provided.
International Orders: 10-12 days for delivery. For additional shipping
Returns - 30 Day Money Back Guarantee Policy!
We want to make sure that you are completely satisfied with your purchase, therefore we offer a 30 Day Returns Policy so you that can send any unwanted items back to us (within 30 days of the delivery date) and without any queries we will refund the cost of your items.