Add a visually stunning touch to your indoor or outdoor decor with these LED Dancing Water Speakers that are sound sensitive and provide cutting-edge crystal clear audio quality.
Add visually entertaining feat to every music experience to lift the mood & turn eyes to something to look into on long and tiring days with the LED Dancing Water Speakers!

The LED Dancing Water Speakers will entertain both senses of hearing and sight from boredom brought by a dull working environment or repetitive study routine. It's visually mesmerizing & transcends multiple vivid LED illuminations and water-spouting to each speaker that matches the beat of every music of choice.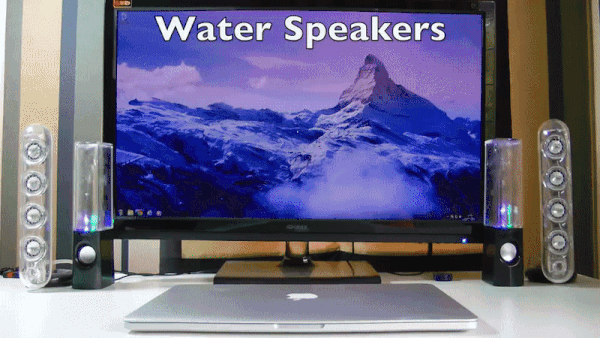 ✔︎ Diverting
✔︎ Illuminating
✔︎ Relaxing
✔︎ Florid
✔︎ Stylish
✔︎ Multifaceted
FEATURE(S):
Diverting:

 

The LED Dancing Water Speakers shifts the user's preoccupied minds to relax, possibly by listening to the music it produces. Both speakers produce exquisite sound 3 dimensionally & illuminating vivid LED light and spouting water that synchronizes to the beat of the music, giving its wiggling effect, entertaining to the ears & eyes.
Nifty & Florid:

 

The LED Dancing Water Speakers has that stylistic design that will suit as decoration to home interiors, desktops, tabletops, side table & television divider speaker illuminator that give a subtle touch to those places.
Multifaceted:

 

Laptops, desktops, & smartphones can be connected to the LED Dancing Water Speakers through a USB interface with a 0.35 cm take-in interface to enjoy relaxing music that's also eye-catching.
SPECIFICATION(S):
Material: Polystyrene
Size: 6.3 x 5.1 x 22.5 cm / 2.4 x 2 x 8.8 in (L x W x H)
Power Source: USB Interface
Connectivity Input: 0.35 cm Audio Interface
Sound Transmission: 3 Dimensional Surround Sound
Light Source: LED Multi-Colored Beads
PACKAGE INCLUDE(S):
1 x USB Cable

1 x 0.35 cm Audio Cord