Nothing beats pancakes dipped in maple syrup for breakfast.
You need delicate but stable hands to pour the syrup from the jar onto the pancakes. A little clumsy, and you will make a mess of your breakfast table.
Avoid any mess by using this honey crystal dispenser for pouring liquids anywhere without spilling a single drop.
This elegantly shaped dispenser has an ergonomic handle to hold it comfortably.
Equally easy to use for both kids and adults.
What you'll get:
Beautiful design:

The dispenser is shaped in a honeycomb glass base pattern that makes it look elegant. It is lovely to serve your guests and makes the whole dining table set up look more appealing.

Easy pouring:

With no difficult-to-open lids, this honey crystal dispenser is quick and easy to use. A simple press of the top clip will dispense the liquid from the bottom opening. Swirl the dispenser over your food and enjoy the meal wholeheartedly.

Mess-free use:

This dispenser doesn't let your hands get dirty by keeping the liquid intact in itself. Use it as you wish without worrying about your hands getting sticky or the liquid falling everywhere.

Multi-use:

Not just for honey, but this dispenser is equally good for maple syrup, lemon juice, or pouring of any other liquid.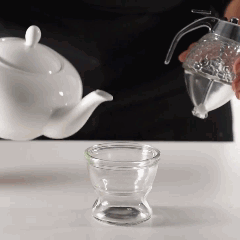 Shipping time: 10-20 business days