8 HEATING PADS AND 3-WAY TEMPERATURE CONTROL
8 infrared carbon fiber heating panels perfectly spread out across the vest ensure you won't have any cold spots. Focusing on the back, neck, and front pockets where you need warmth the most. Equipped with a 3-way temperature control feature going up to 56°C or 132°F with a simple click of a button - allowing you to find your perfect temperature, for whatever the weather decides to throw at you.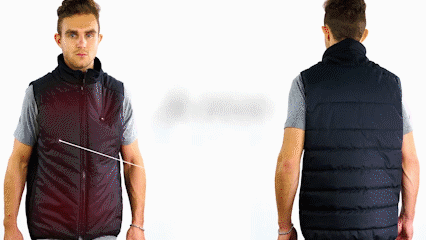 MORE THAN 10 HOURS OF BATTERY LIFE
Our vest run off an external battery pack that perfectly fits in an inside compartment. On average, our jackets last for 10+ hours of HEAT!
100% WATER-RESISTANT AND MACHINE WASHABLE
Our vests are 100% water resistant so you won't be held back from staying warm even in the rain. This goes hand on hand with our vests being washing machine friendly, simply remove the battery pack and toss'er in.

ONLY THE BEST QUALITY
We can assure you that our vests are 100% safe without the use of UV or other potentially harmful rays. Stuffed with high-quality down and lined with polyester, this vest is extremely high quality and durable.
PERFECT FOR ANY OCCASION
Whether you are walking in a storm or hiking a mountain, you need something to keep you warm. Boasting a sleek, elegant and modern look, people will often mistake this vest as designer fashion. It's ability to adapt to any situation, allows for a perfect vest suited to keep you warm in any climate.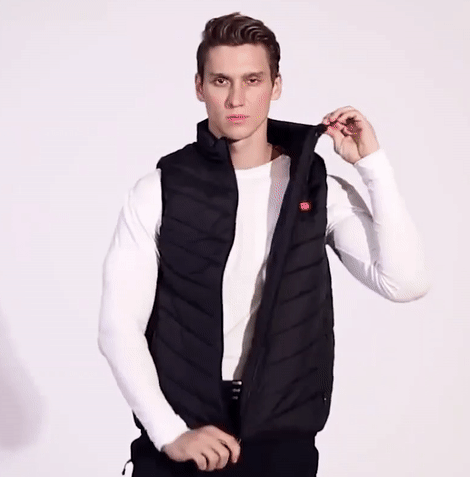 SIZE GUIDE
| | | | |
| --- | --- | --- | --- |
| Size | Length (CM) | Shoulder (CM) | 1/2 Bust (CM) |
| S | 63 | 39 | 51 |
| M | 65 | 41 | 53 |
| L | 67 | 42 | 55 |
| XL | 69 | 43 | 57 |
| XXL | 71 | 44 | 59 |
| XXXL | 73 | 45 | 61 |
| 4XL | 75 | 46 | 63 |