The Galaxy Night Light Projector is a compact, stylish, interactive light which engulfs any room in a sea of stars, light, and color.  It is an ultra quiet projector that creates a relaxing environment. Consists of moon, star and nebula projector with 6 colors. You can have a unique perspective either via roof projection or the wall projection.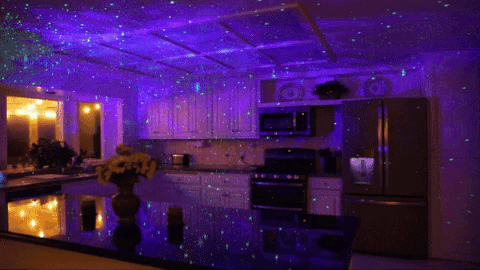 ✔ MULTI-PROJECTION EFFECTS - The star projector displays a brilliant view of the night sky. It has effects that stimulate stars, the moon and the nebula.

✔ THOUGHTFUL DESIGN - It is a great option for a kid's room or any room that you would like to create a relaxing atmosphere at night as it will fill the whole room with moving stars.

✔ ADJUSTABLE SETTINGS - Our projector is ultra-quiet and you can get multiple lighting options. The projected distance is between 6.56 to 32.8 feet.

✔ CONTROLLED BY CLAPS - It can be controlled by clapping hands or with loud music to easily turn it on/off.

✔ 6 DIFFERENT LIGHTING EFFECTS - The star projector can help your child fall asleep faster. You can cycle it between 6 different colors or just have it stay fixed on one.

WHAT'S IN THE BOX
Beautiful Galaxy Night Light Projector
Power Adapter
Micro USB Charging Cable
Instruction Manual