Features:
💦 Imaginative Role Playing Game: This kitchen sink toy is perfect for nurturing a kid's desire of imitation and helping them explore the world; Children can imitate real-life activities, like switching on the faucet, dishwashing and drying tableware.
💦 Simulation Kitchen Play Set: Perfect for children to role play being in the kitchen, which helps improve color recognition, kitchenware recognition and also exercises hand-eye coordination ability and the ability of organization and storage.
💦 Child-friendly Materials: Odor-free ABS materials featuring smooth edges without burrs means this water sink toy is child-friendly and kids can also learn to wash their hands for additional good health.
💦 Automatic Water Cycle System: Fully automatic so children don't need to press a water pump every time to have running water; Teaches good habits like saving water and washing hands; Runs on 2 AA batteries, not included.
🎁 Makes a Great Gift for Kids: The kiddies will be thrilled when these toys come home! They will have an absolute blast every time playing with it and love you for it. Perfect gift for infants, babies and toddlers.
Size:


Have Fun Now >>>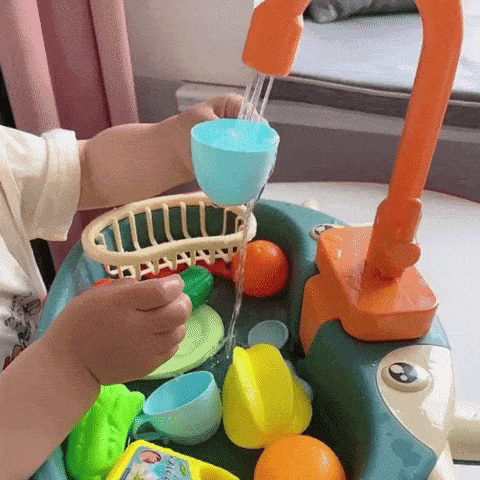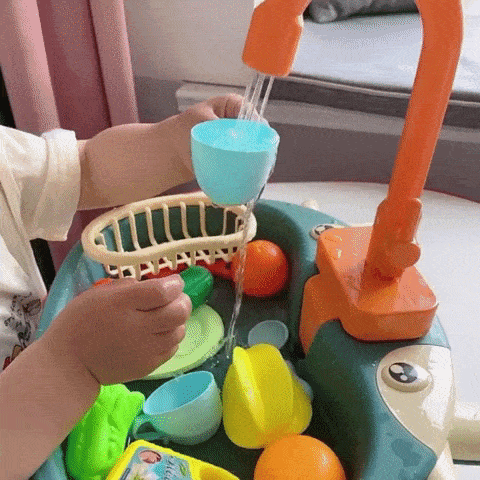 Specifications:
Warning: small parts are not intended for children under 3 years old

Type: Kitchen Toy Set

Recommended age: 0-3 years old, 3-6 years old

Material: Plastic - ABS

Gift: For Birthday, Christmas

Gender: Unisex

Color: Blue, Pink

Certificate: CE