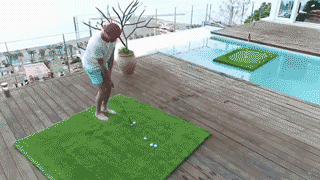 This is the original 2'x 3'floating golf . The original floating golf had a floating device with dimensions of 2 feet by 3 feet, and the edges were extended on all sides. The box contains detailed assembly instructions, and it is estimated that it takes 15 to 20 minutes to assemble. In addition, you will receive 4 floating golf balls that feel like real golf balls, but safe for the backyard or the crowd. A tee box, an advanced practice green flag and pins, and an adjustment cup finally finalized what many people on the market call the best swimming pool toys.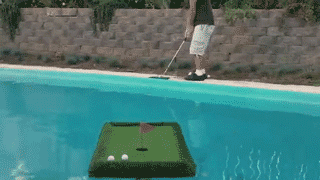 For your next gathering, charity event, club golf tournament, or Hole in One contest, the Original Floating Golf is a great choice.
This floating golf is ideal for any large residential swimming pool, country club swimming pool, pond, marina or lake environment. If you are a skilled golfer, it is difficult to miss this green, but it is a huge challenge from any point of view. You can float it further and make it longer than other hits. What is enviable for any party or event is that the main floating golf ball will be the focus of discussion throughout the afternoon and the entire town. Your guests, customers or competitors will all enjoy the fun and excitement of the competition that this large floating golf ball will create.
Regulation-size, dimpled balls have a solid, cross-linked foam core that creates enough weight for limited distance
Balls are soft enough for backyard practice
Helps discerning golfers practice their short game
Premium pool toy that's fun for all ages and skill levels
Rolls up for compact storage
Made of repurposed turf by the leading turf manufacturing company in the USA
Expect minimal shedding during first few uses; synthetic grass will not damage pool
Upon initial unrolling, the turf may appear flattened, but will regain its upright nature after a short time or it can be fluffed by hand