Make every road trip safer and more comfortable for both you and your dog.
The Dog Rear Car Seat provides you with the easiest way to protect the back seat of your vehicle from spills, scratches, fur, and dirt carried by your pet. Our backseat covers are made from high-quality polyester material that is not only waterproof but can also withstand wear and tear from your pet on a day-to-day basis.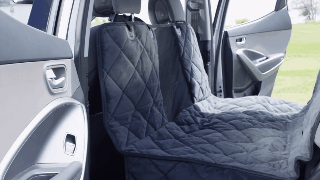 ❌ No more dog hair everywhere!
❌ No more scratches!
❌ No more cleaning up mud, water, and urine!
❌ No more dog smell!
✔️ Take your dog everywhere with you!
✔️ Keep your dog safe while driving!
✔️ Keep your car clean!
✔️Fits all Cars, SUV, Trucks
✔️ Heavy-Duty And Water-Proof With Premium Material For Maximum Protection
The Dog Rear Car Seat use of hypoallergenic nylon of the highest quality to keep the interior or your car, truck, or SUV fresh and clean while protecting it from unwanted scratches, pet hair, leaks, and accumulated paw dirt.
✔️ Universal Fit For Any Car, Truck, Or SUV
Through many tests on a variety of vehicles, this hammock has never failed to fit just right. No matter what vehicle you may own, this will be the perfect fit.
✔️ Pet-Friendly Design
It comes with a non-slip base finish designed to protect your pet from slipping towards the dashboard every time you hit the brakes. This translates to a much more worry-free driving experience for you, and a comfy lounging experience for your pet. Our Premium Dog Rear Car Seat come with anchors, that hold it securely in place, and has a non-slip rubber backing that prevents slip-sliding so you NO NEED TO WORRY about dirt, dander or claw marks on your seats.
✔️EASY TO CLEAN
When the back seat car cover gets dirty, you can just remove it at ease and launder it in the washing machine to get it fresh, clean, and ready for use again. Easy to install within a few minutes according to our instruction manual.
✔️ Quick And Easy To Install
No special tools and technical skills needed. Our Dog Car Seat Cover Hammock installs in just a matter of minutes. Simply unfold the dog seat, hook the safety strap on the front and rear headrest of your car, truck, or SUV. Once attached, insert the seat anchors in between the seat back and the seat surface to prevent the hammock from sliding out of place. Once done, you're all set for an easier travel experience.

Specifications:
Item Type: Rear Back Seat
Material:

Polyester, PVC
Car:

Fits all cars, SUV, Trucks