Instant, long-lasting, dreamy curls anywhere!
Do you want to style your hair and meet with your date in 10 minutes? Get the dreamy, shiny, and durable curls instantly with Cordless Hair Curler. Forget about heavy irons, tangled cords, burnt skin, and endless time to style your hair.
Features:

Suitable for all hair types


No expertise needed, safe to use
Style your hair in no time
Suitable for all hair types: No matter how your hair is - thin, thick, short, or long, you can have dreamy curls wherever you go. You can use our advanced time and heat settings, to achieve any curl you need.  
Advanced time and heat control: Cordless Hair Curler heats up pretty fast so that you do not have to wait around for your dream curls. The tourmaline ceramic-coated barrel quickly will give you a smooth, massive shine and bouncy curls. 


We have 6 temperature gears between 150-200℃, and 6 styling auto curling time settings between 8-18 seconds to meet different hair styling needs. You can also choose the curling direction (left and right) to perform perfect loose or tight curls easily whilst saving a lot of time.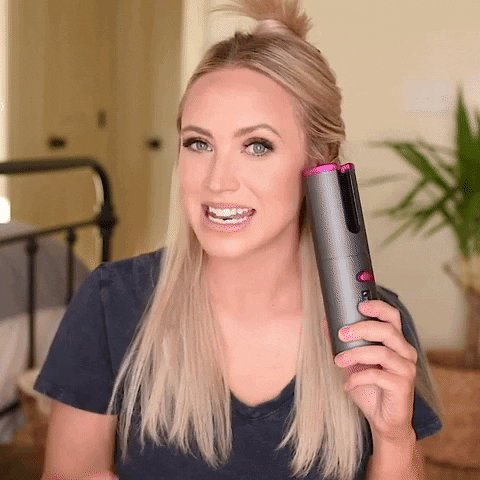 Efficient and Super Safe: Cordless Hair Curler has the best sleek and cordless design that will maximize your time and effort while using. It heats up pretty fast and is equipped with a double-layer ceramic glaze coating inside the curler.


Whilst getting the best curl of your life, it will effectively reduce any hair damage and avoid burns. Its unique anti-scald design & automatic reverse rotation helps to avoid any tangled hair problems.


Unlike the curling irons that stuck and even burn your hair, Cordless Hair Curler has a smart sensor chip, which will automatically suspend the curler when the hair is placed too much or incorrectly. It has also an energy-saving auto-off mechanism after 10 minutes of inactivity.
No Expertise Needed: Cordless is very easy to use and needs no expertise for getting the dreamy curls.  The LED display presents all the good details on temperature, curling direction, and timer clearly. It is cordless and has a built-in rechargeable battery that you can easily charge with a USB from your phone, computer, or power bank. 
Battery capacity: 5000mAh
Battery voltage: 3.7V
Battery watt-hour: 9.25Wh
Battery type: Lithium-ion rechargeable battery
Charging time: 3.5hours
Using time: continuous using time of about 40 minutes Temperature gear: 6(150℃ 160℃ 170℃ 180℃ 190℃ 200℃
USB length: 58±5cm
Item size: 19x5.6x4.9cm