Does your makeup bag look like this?
Tired of unorganized, messy, cheap, and ugly makeup bags? Because we are.
That's why we created the Aventil Makeup Bag, the last makeup bag you will ever buy!
The most marvelous makeup bag
Organize all your cosmetics, skincare, and jewelry into a cute, dazzling & luxurious makeup bag. You can take it everywhere!!
The flawless roomy design alleviates any complication when organizing your makeup whether you're traveling or at home with 7 fully modular compartments.
Infinity Mirror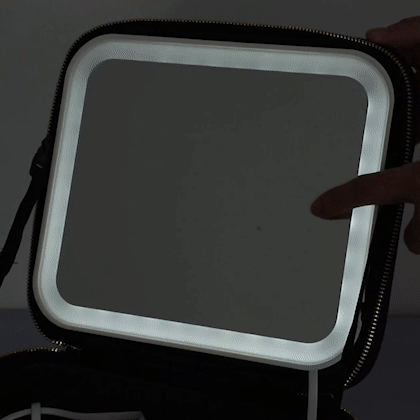 The Aventil features a built-in Mirror with an intelligent LED system to help you attain your desired makeup at any time of the day or place.
The LED system of the Infinity Mirror has adjustable lighting & brightness settings like warm or cold tones to ease your makeup process.
Your Travel Companion
The Aventil cosmetic bag is lightweight and easy to carry and comes with a large & adjustable storage capacity which includes adjustable dividers that allow you to customize the compartments to fit your cosmetics & everything else you need.
It also includes a special space to fit all your brushes!