FREE INTERNATIONAL SHIPPING AVAILABLE
Anti-Collision Mini Levitation UFO Quad Drone
High-tech sensing flying ball toy looks like it comes from space. Our kid drones can be suspended in the air, also it can fly in all directions according to inductive sensors. The colorful LED lights alternately flash in the flight, which is more vivid and interesting. You can manipulate it easily and play with parents or kids together.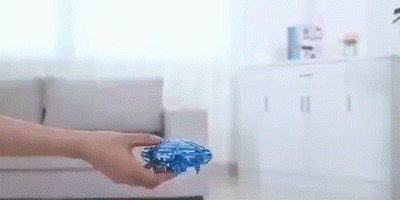 High toughness protection, no fear of collision, effectively reduce impact injury, prevent finger injury.

Trendy products, new patterns, interactive entertainment, easy to use.

Intelligent automatic obstacle avoidance, visible intelligent objects.

Gesture control flight, no remote control, easy to use.

360 stunt rotation, more interesting flight experience.

Inverted stop flight, humanized safety protection.

USB smart charging, not afraid of charger loss.

Throw fly, so simple, blue light can take off.

Feel sensitive, full of fun.
Multi-sensor, clever as the human brain
Colorful night lights, LED brilliant lights in the night sky, increase the fun of flying at nightIt is an interactive flying toy of personality! Toss it up and will fly like no other drone you've seen before!
Specifications:
Package Include:
1 Set x Mini Drone Quad Induction Levitation UFO.
Returns - 30 Day Money Back Guarantee Policy!
We want to make sure that you are completely satisfied with your purchase, therefore we offer a

 

30 Day Returns Policy so you that can send any unwanted items back to us (within 30 days of the delivery date) and without any queries we will refund the cost of your items. For additional details please visit Return Policies.
www.bestgiftsandgadgets.com 
Best Trendy Gifts & Gadgets!