Keep Your Gadgets In Pristine Condition
Make your gadgets last longer by simply upkeeping them with our handy . This small yet powerful tool clears away all types of dirt from every part of your gadget.
Our exclusive is packed with 7 useful cleaning tools in its sleek body. This means that you can brush, wipe, pick, and dust away dirt in an instant, keeping your gadget overall dirt-free.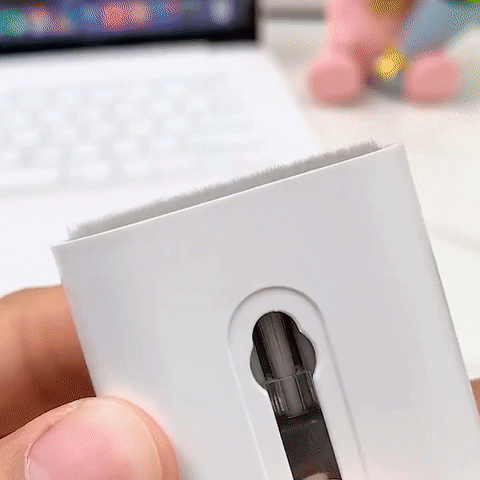 How Will Change Your Life
✅ALL-IN-ONE TOOL
There's no need to collect multiple cleaning tools to keep your gadgets nice and clean. All you need is the to handle all your gadget cleaning jobs, whether you use it on your phone, laptop, or computer.

✅EARBUD CLEANER
Silicone and plastic nip clean that sticky and tough dirt hidden between crack and hole; Plush brush cleans the dust sticks on acoustic mesh, shallow holes, and crack; charging hole cleaning brush cleans the dust and dirt hidden in those deep holes that you can't reach out with fingers.
✅SCREEN CLEANER
includes screen cleaner mist and microfiber fiber cloth making a are cleaning, disinfecting, antistatic, and degreasing. Easy to remove the oil and fingerprint for the screen of a cell phone, tablet PC, laptop, indicator, TV; the glass of eyeglasses, and the lens and camera.
✅KEYBOARD CLEANER
includes a retractable brush and key remover, making replacing keycaps and cleaning the bottom of the keyboard hassle-free with the simple key puller. The high-density brush is large and firm enough to clean flat surfaces such as keyboards and desktops with less labor.

✅PORTABLE SIZE
Even though it's packed with 7 different cleaning tools, the remains compact. fits smaller than the palm of your hand, making it an easy-to-carry. This way, you can take it with you when you travel in case your gadgets get dirty.

✅STURDY BUILD
With its sturdy build, you can rely on the to last for years. With proper use and care, the is sure to keep your gadgets clean for the long haul.
Product Specification
Laptop cleaner kit
Size: 4.88*1.73*1.18 inches
Weight: 2.82oz

Earbud cleaning pen
Length: 3.4 inches
Weight: 0.35oz