equip with Haircut, Nasal hair pruning, Soft deep brush, Face Cleanser, Bald head shaving beard trimming with double sharp knife nets save your money, economy, practical, safe sharp enough, give you more space in your bathroom make you clean in short time before leaving home
2. 100-120V Global voltage adaptable:
You can take it when you are travelling or doing business trip, no power inverter no messy
3. rechargeable & Long lasting:
Fast charging in 5 hours keep working for over 45mins.Solve the problem of repeated charging. Charge with any phone adapters
4. Shaving No Bleeding:
Comfortable head & beard shaving experience with 5 flex head floating design, nicely attach to your face chin surface, sharp with easy-to-go design, shaves quickly more safer avoid bleeding
5. Hole Body Waterproof:
Washable IPX 7 waterproof body can be used in your shower or shaving in the morning, also make your cleaning nice easy. Simple open each cap of the heads, clean the excess hair away with flowing waterkeeper in a cool place to dry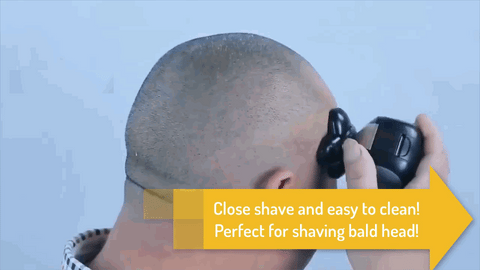 Features:
- Ergonomic design for a more comfortable
- Trim shape and style facial hair
- Deep clean facial brush-removes impurities& energizes the skin
- Pre-shave massage brush softens stubble
- Fast clip nose hair, breathe more smoothly
- Can be opened, easy to operate and easy to clean
- Best ergonomic design ,equip with Haircut Nasal hair pruning Soft deep brush Face Cleanser
- Rotating five cutter head. double ring independent floating blade. Smart floating system fit your face
- Charging and discharging indicator, 3 hour fast charging, power 3W.
-The whole body washable design, can be washed directly with tap water, safe and practical.
Material: ABS £¨Acrylonitrile Butadiene Styrene plastic & Stainless steel
Power Type: Rechargeable
Built-in battery:450mAh rechargeable
Charge:5 hours
Endurance 45 minutes(The specific time of use is related to the time of shaving)
Rated voltage: Global Universal(100-230V),Power:3W
Input voltage of the body:5V,Output power:1W
Frequency:50/60Hz
Note:
- Maintain nicely with daring and storing in a dry and cool place.
- Please keep away children's touch.
Dual use:
1.Dampness shaving
With the use of shaving foam(shaving foam not included)
2.Dry shaving
Use it directly, experience at any time and anywhere
Packaged included:
1x Razor
1x USB cable
1x Clean brush
1x Hair clippers
3x Caliper comb
1x Cleanser
1x Nasal hair device
1x Soft brush