360-degree Powerful Irrigation System Making Watering Far More Efficient And Easier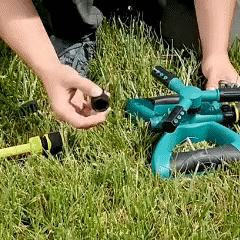 Enjoy low-maintenance gardening with the 360 Degree Lawn Sprinkler Irrigation System.
Installation is quick and easy. Install the connector to the hose, attach one or more sprinklers, and open the faucet to allow water to flow.
cost-effective and energy-efficient because it can irrigate multiple plants at once.
makes sure your plants get enough water even if you are away. Suitable on lawn, garden, greenhouse, and farm.
The 360-degree powerful irrigation system can water a diameter range of 24-32 feet with a water pressure of 40 PSI and 36-49 feet with a water pressure of 60 PSI, making watering far more efficient and easier!
Adjustable spray arms with four nozzle styles can adjust the sprinkling angle to 45 degrees or 90 degrees for higher density watering results, ensuring that every corner of the area is covered.
Features And Benefits:
Multi-angle nozzle enables you to change the direction of the water sprinkle.
360° rotating body for a broad coverage irrigation system.
15°-45° angle adjustable sprayer to water every corner.
Water inlet joint that securely fastened the hose, ensuring no leakage.
Made of premium material for safe and long-lasting use.