designed with handy dual-purpose camping gear. Simply hang it in your tent and take pleasure in hours of light and cool fresh air. The 2-in-1 fan & light combo are sure to bring air & brightness into your camping trips. is an intelligent, no-brainer purchase for any outdoor adventure enthusiast.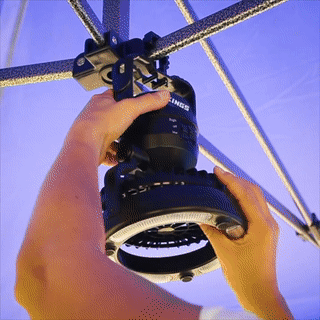 Reasons Is For You
✅ POWERFUL & BRIGHT: 18 Ultra Bright individual low-powered LED bulbs will be lit your tent nicely. The fan has a high and low setting and provides a max wind speed of 10ft/s, enough to keep you cool!
✅ PORTABLE: weighs only 1.1 lbs (500gr) and is made of durable material.
✅ WATER-RESISTANT: No need to worry about any moisture in the tent or outside.
✅ LONG-LASTING BATTERY: One set of batteries (2D batteries not included) provides up to:
- 37 hours of light
- 50 hours of low-speed fan
- 30 hours of high-speed fan
- 16 hours of combined light and fan (low speed)
✅ TRANQUILITY:
Thanks to its uniquely designed fan blades, provides powerful airflow with a quiet
noise-free
operation. The design
✅ EASY TO USE: Comes with a hook for a convenient hang inside a tent, hammock, a tree, and other outdoor settings
is a must for a survival kit, during and after a hurricane or wildfire, random power outages and blackouts, roadside assistance, and of course, camping.
Other Specification
- Light Color: White
- Bulb life: 50,000 hours
- Batteries: Requires 2 D batteries required (Not included)
- Size: 16.7 x 18.4cm/6.6 x 7.2 inch
Warnings & Cautions
- Do not stare into the head of the light while it is switched on or point to eyes.
- Do not expose the torch to heavy rain or excessive moisture.
- Do not dispose of the batteries in normal household rubbish.
- Do not mix different battery types or brands, i.e., Alkaline and rechargeable.